Miami, Fort Lauderdale, and Savannah, Georgia may be geographically located in the southeastern United States, but you'll rarely see the aforementioned cities in the same sentence. This past weekend, on the other hand, designers, technologists, and community members at three separate events taking place simultaneously teamed up to "hack" on Hurricane Resilience and Response projects. The following is a brief recap of what took place at General Provision, and you can find a full regional recap here.

In Fort Lauderdale, a timeline was used to come to a shared definition of the key priorities for storm preparation and post-storm follow up. Many conversations circled around procuring supplies and materials, as well as keeping informed of news updates and road closures. Connectivity and integrity of data also posed unique challenges which, as many agreed, would not be solved overnight. For many, outlining the process together allows for consensus to form and inspiration to take hold.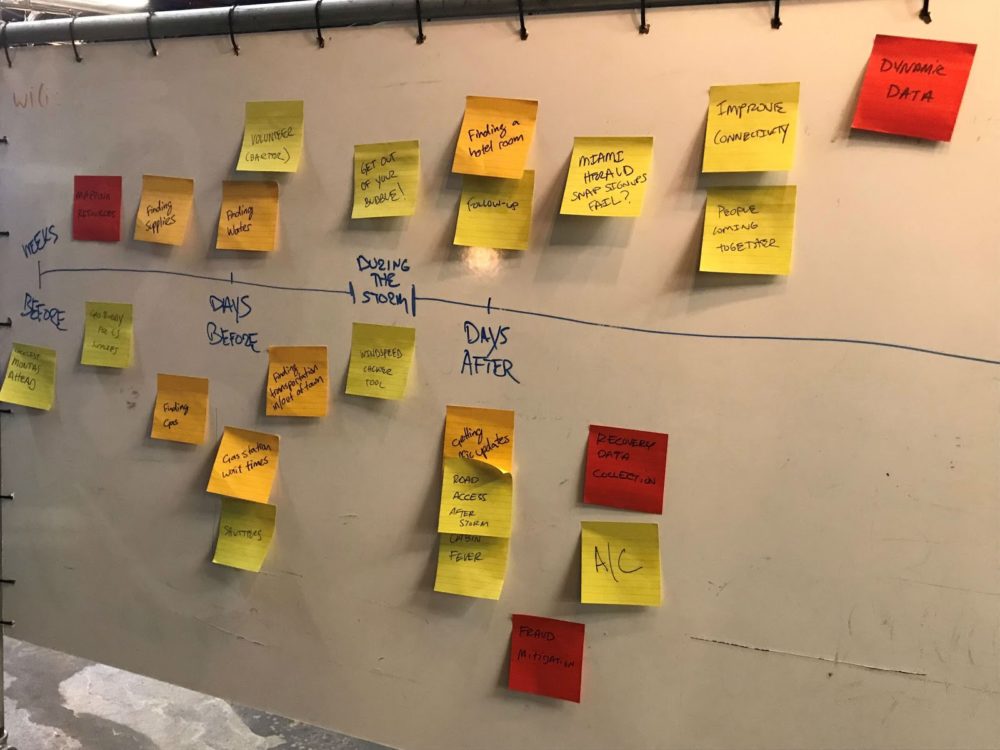 A passionate team of developers lead by Kyle Pierce created OurSight, which leverages Foursquare's API and Google's Firebase to serve as a platform for resource availability tracking with SMS updates. "What if we could crowdsource a number of resources a specific location has?" Kyle explains on his blog, "People who are at a single location can let others know 'this Publix has a lot of water' or 'this Home Depot is out of plywood'." OurSight's code is available on GitHub, contribute!
This year's National Day of Civic Hacking was marked by devastating storms and divisive politics, but if this past #HackforChange event has shown us anything, it's that given that right information, timeline, and support, talented members of our community are not only ready to step up and collaborate to solve problems, but they very well may be the most important experimental force we have in our toolkit. If cities are now the new "laboratories of democracy," then citizen experimenters and civic hackers are the new "founding fathers and mothers."
Written by: Rob Davis | @robdotd