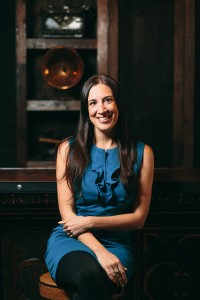 As we celebrate a year of community, craft, and commerce here at General Provision it is important for us to recognize the members who have accompanied us on our journey– making it all possible! A special thanks to Laurie Menekou for choosing to grow her business(es) in the confines of our space! Check out what she has to say about her experience coworking at GP. . .
Q: What prompted you to cowork at GP?
A: A couple of factors: 1) The space is unique here in Fort Lauderdale – a creative working atmosphere is important for my team to be at their best 2) Conceptual Communications is in serious growth mode right now – so the ability to add a new team member at the drop of a hat and have the space to welcome them is important 3)  Partnerships and collaboration – it is so key to the growth of a successful start up.
Q: What type of business do you run?
A: An integrated marketing agency (Conceptual Communications) that specializes in public relations, marketing and digital media as well as a new start up called Bumble Bee Bike Tours – a guided bike tour company my fiance and I launched in April 2015.
Q: How has coworking played a role in your business?
A: It has allowed us to really grow by affording me the ability to set up shop and have support systems already in place. If we need to bring on a new team member we can, a place for them to sit and work is taken care of – it takes the logistics of running an office out of the mix and allows me and my team to focus on serving our clients, growing the business, and doing what we love!
Q: Can you recall any inspiring experiences at GP?
A: Inspiration happens on a daily basis at GP – watching entrepreneurs of all ages in all different fields working hard, building their empires – it's quite impressive and motivational.
Q: Have you had the opportunity to collaborate or work with anyone at GP?
A: Yes! When my fiance and I launched Bumble Bee Bike Tours, we immediately connected with Wyncode, a coding school now based out of GP and were able to offer them a corporate bike tour option for their cohorts – a win-win for both of us!
Q: What's the top item on your bucket list?
A: To visit as many countries as possible
Q: What's your favorite book?
A: That's a tough one – serious books: Lean In, Good to Great, 4-Hour Work Week
For Fun/escape: The Snow Child, The Girl You Left Behind, Leaving Time
Q: Favorite restaurant in Fort Lauderdale?
A: Osteria Acqua & Farina
Do you want to be inspired? Join our community by clicking below!