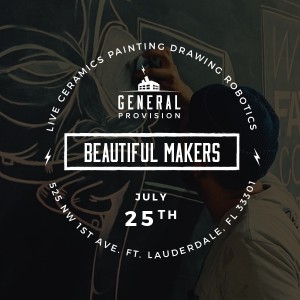 Beautiful Makers: A Glimpse Into Live Craft and Artistry
Step foot into our space during the FATvillage July Art Walk and into an alternate universe. One bursting at the seams with creativity; culminating into a celestial night of live artistry and craft by sculptors, visual artists, & coding craftsman alike. Take a peek at their past work on display and watch as they create new work right before your very eyes! Don't forget to grab a specialty cocktail from Cocktails for Humanity–all proceeds go to non-profit HANDY to benefit disadvantaged youth. It's for the kids!
Saturday, July 25th I 6pm – 11pm
Let us know you're coming by clicking below!