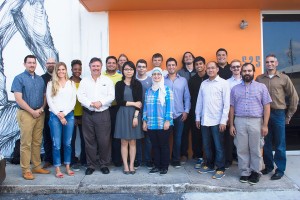 Wyncode Academy, Fort Lauderdale's first brick and mortar coding bootcamp, invites you join their 2nd Pitch Day event here at General Provision. After an exciting and intense 9 weeks, Wyncoders will present their final project web application. Previous cohort's alumni are now leading the charge as junior web developers in the South FL tech scene coding with a vast array of innovative companies including MDLIVE, EarlyShares, Cloud Logistics, Kipu Systems, Watsco Ventures and more! This next cohort will follow in their footsteps and become the new fleet of Ruby developers.

An incredible group of panelists will be deciding the winning app:
– Stephanie Serafine Senior Engineer at Equisolve
– Rob Davis Civic Tech Organizer at Code for Fort Lauderdale
​- Charleston Malkemus CTO at FlexShopper
Take a peak at the last Pitch Day I at General Provision!
This event is free and open to the public, but an RSVP is required.
Ready to find out who built the next big app? Click below to RSVP!