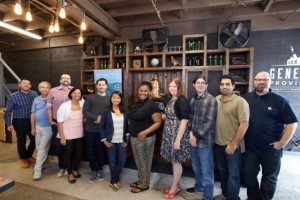 Join the Fort Lauderdale tech and start up community here at General Provision on Thursday, June 18th to witness the beginning of a developer's career. In 9 weeks, 8 individuals persevered through an intensive program honing their technical and business skills. Wyncode's pitch day celebrates the end of that journey and the beginning of the next exciting chapter as these individuals join amazing tech teams or go on to launch their start up!
In the last year over 1000 people have joined together for Miami's pitch day, an event that brings together a panel of judges, a team of hiring partners and the community in celebration each cohort's graduation. Now is your chance to experience the event right here in Broward County! You may meet your future Co-founder or the dream developer you have been looking for. Check out what pitch day has looked like in the past!
Wyncoders will have 5 minutes to pitch and demo their web application, built in just a few weeks. We are honored to have Jonathan Leblanc of Braintree Paypal, Connie Finkelmanon  of Vita Cost, and John Cattaneo of Citrix on our expert judging panel.
If you are thinking about learning to code or in search of great developers don't miss this exciting event! Can you learn to code and build your own web application in 9 weeks? Even better, can you land a job as a developer? The answer is yes! Come see for yourself on Thursday June 18th! Please RSVP, it's free to attend.
This event is sponsored by Knight Foundation
CarHopper (enjoy discounted car rentals)
Frankie Dogs (on hand to provide delicious food)